OTHER ARTICLES
Phobia Cures
Smoking
Coaching
Motivation
London NLP & Hypnosis Group
Join now
About Phillip
Recommendations
Pictures

NLPNOW in
Want NLPNOW
in your country? Email.
NLPNOW
13 Norbiton Hall
London Road
Kingston upon Thames
Surrey
KT2 6RA
UK
Call (UK) 07061003003 or 0845 130 6213 for more information.

Email: holt@nlpnow.net
Hypnosis is often referred to as sleep, and some client's expectation is that upon the onset of a hypnotic trance, a state of sleep will be induced, where the lights will go out, they will become unaware of anything, and when they are awakened, they will have no memory of what occurred.
This is not the case, in fact the client is often more aware of what has happened, they hear more, feel more, and with eyes open, yes one can be in a trance with eyes open, they will see more. It is just sleep-like.
Hypnosis is a word derived from Greek mythology, the god of sleep Hypnos. In 1843 Scottish surgeon James Braid (1795-1860) used the name Hypnos to create the term "hypnotism," which he introduced in his treatise "Neuryphology, or the rationale of nervous sleep." "Hypnotism" (also known in the 19th century as "Braidism"), the science or practice of artificially inducing a sleep-like trance, gave rise to the coinage of "hypnosis," the term for the trance itself.
Whilst in a trance, a sleep-like state, we are able to access a dream like state, to enable the subconscious mind to interact with the conscious mind, as perhaps happens in sleep.
Sleep is comprised of two distinct states, REM (Rapid Eye Movement), and SWS (Slow Wave Sleep). These states can be observed in trance like states.
REM, which can be observed by jerky movements under the eyelids in a sleeping person, occurs in sleep approximately every ninety (90) minutes throughout a normal nights sleep, and can last for a few minutes to more then thirty (30) minutes, starting in short bursts of REM at the beginning of a sleep cycle, to longer as sleep progresses.
SWS, will display in a sleeping subject slow brain waves, which occur more than REM in the beginning of a sleep cycle. During SWS, there is no muscle paralysis, which occurs in REM stopping the dreamer enacting their dreams. It has been found that during SWS such conditions as sleep-walking, talking in the sleep, bed wetting or grinding of the teeth (bruxism) will occur.
Many explanations and meanings of SWS and REM have been put forward, but as yet no real meaning as to the reasons we sleep and dream has been found. A study was undertaken, where REM and dreams where inhibited by drugs, and it was found that no harm or deleterious effects were created.
It has been found by studying sleep in cats, that it is during REM sleep that certain neuron activity occurs, which is likened to information passing from short-term memory to long-term memory, it has been found that sleep is important to the learning cycle, and this activity is known as the plasticity of the brain, long-term neuro connections path waves being formed. Drams are formed.
Many people try and interpret these dreams, and books have been written on the subject. Freud believed that these dreams had sexual meanings, perhaps as he observed that during sleep there is penile erection in males and clitoral erection in females. He saw dreams as being backward looking at repressed material. Jung thought differently, he understood dreams as positive forward looking material, with the sub-conscious communicating with the conscious mind. Another person, Adler, saw dreams as not symbols of simple representations.
I believe that there are many areas of memory. Short term memory less than 400 milli seconds, short term memory of say of say twenty-four hours, long term memory, and a working memory. As stated, during sleep, short term memory is passed to long term memory, with the placidity of the brain, new neuro connections being made, and it is this firing of the neurons that create dreams, which uses the working memory. This working memory has very weak neuron connections, and memory traces are quickly lost. How often do you remember dreams after awakening, but as the day progresses, the memory of that dream disappears. This would account for people who state they do not dream, this working memory became depleted.
It is in dreams or trance, that our sub conscious mind can communicate with our conscious mind as a metaphor, not to be interpreted by others. Pose a question prior to going to sleep, or entering a trance, and upon awakening, write the answer down. Dr Win Wenger in his exercise of Image Streaming, creates the same results.
Hypnosis or trance, induces states equal to REM as in sleep, through hypnosis the brain can learn, and the conscious mind can access the sub conscious to solve our many problems.
NOW READ WHAT IS HYPNOSIS (click)
Phillip Holt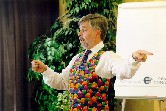 An International Trainer of NLP, Hypnosis, PhotoReading, Speed Reading, Memory Skills.
Dealing with phobias, on a 1-2-1 or public basis.
Public Speaker.


NLPNOW around the World