OTHER ARTICLES
Phobia Cures
Smoking
Coaching
Motivation
London NLP & Hypnosis Group
Join now
About Phillip
About Mee Len
Recommendations
Pictures

NLPNOW in
Want NLPNOW
in your country? Email.
NLPNOW
13 Norbiton Hall
London Road
Kingston upon Thames
Surrey
KT2 6RA
UK
Call (UK) 07061003003 or 0845 130 6213 for more information.

Email: holt@nlpnow.net
Or
Solution-Oriented Hypnosis
I have often been asked what hypnosis is. View the article on page one (click).
In the early days of NLP (Neuro Linguistic Programming), the co-founders, Richard Bandler and John Grinder, modelled a number of great people including Virginia Satir, Moshe Feldenchrist and Milton Erickson, to find out how they achieved excellence. It was modelling Milton Erickson that they noticed patterns in his language, that has become the Milton Model of NLP, the Milton Model being the opposite to the Meta Model which allows the practitioner to retrieve missing information from the sub conscious mind, or the clients map of their world.
Traditional approaches to hypnosis are typically authoritarian, and assumes that not all people can be placed into a trance, are or not hypnotisable, and is often the hypnosis seen in Stage Hypnosis Shows, (Learn Stage Hypnosis) in films, or read in books, where the hypnotist gives direct commands such as "you will close your eyes, you will go into a trance." The client is told what to do and to expect. It is said that this approach probably works well with 25% of the population, those that are highly suggestible and hypnotisable, and possibly with 50% of those that remain.
Ericksonian approaches guides the client with permissive language, "you can, you could, you might, you may". This removes the fear of the client of being controlled by someone else. It allows to client to have options or various possibilities of what they may wish to do or experience, with the hypnotist giving positive feedback to the client, to validate the clients responses to help them relax and go into a trance.
Within NLP and hypnosis, it is the use of Ericksonian hypnosis that allows us to guide the client and their sub conscious mind to find a solution to what they are seeking, as it is a presupposition that we all have the resources within to come to a satisfactory solution. It is also said that the work with NLP and Ericksonian hypnosis can be content free, that the facilitator or hypnotist does not have to know the problem or the solution, it is their responsibility to guide the client to their own conclusions. Milton Erickson would speak to his clients, in stories, an analogy or anecdote, in which he would embed commands or hypnotic suggestions.
A two day course on Ericksonian Hypnosis will be held in London (UK) the second half of 2005. Please contact NLPNOW at the contacts below for further information.
NOW READ WHAT IS HYPNOSIS (click)
NOW READ ABOUT EXPECTATION AND HYPNOSIS (click)
NOW READ ABOUT DREAMS (click)
13 Norbiton Hall
London Road
Kingston upon Thames
Surrey
KT2 6RA
UK
Call 0845 130 6213 (local call UK) or 07061 003 003 for more information.

Email: holt@nlpnow.net
For more details on how we can assist you,
Phillip Holt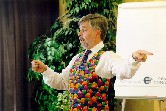 An International Trainer of NLP, Hypnosis, PhotoReading, Speed Reading, Memory Skills.
Dealing with phobias, on a 1-2-1 or public basis.
Public Speaker.


NLPNOW around the World